Bialetti Espresso cups are sold in sets of 6 each design comes with a matching set of 6 saucers. The first set of cups are white with black writing and images there are two designs of the cup within the set with 3 cups of each design.
The first design reads "attenzione de ogi la vera Moka express porta riprodotto con I Bella" which is Italian of course translate this into English, and it reads "attention of the true Moka express port reproduced with the beautiful"
Click Here For Bialetti Espresso Cup Prices & Availability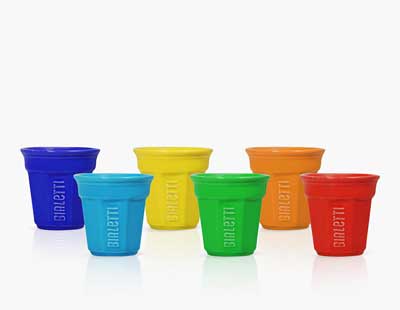 The cup also includes a picture of the famous Bialetti Mokka Espresso Makers. The next cup in the set just features the wording "Mocca Express" with steaming cups of Espresso a maker and the trademark cartoon of Alfonso Bialetti.
The next set of cups is a multicoloured set of six in the colours red, blue, yellow, orange, green and pink each mug is patterned with a white outline of the Alfonso Bialetti logo. The third set is a standard white Espresso cups with a small logo (in black)  while the next set features red cups and saucers with a white logo and white cups and saucers with a red logo.
The fifth set of Cups are white with a colour logo and colour coded saucer; the colours are blue, orange, yellow, green, red and purple. These cups are available as multicoloured or single coloured sets.
All Cups are porcelain and measure 12 x 12 x 7cm