Espresso Cups by the legendary Villeroy & Boch the worlds largest manufacturer of ceramics. The company was established in 1748 and is still family run to this day.
Villeroy & Boch Espresso cups are made from premium bone porcelain, regarded as luxury tableware the high quality cups are perfect for your Espresso.
Althea Nova – A countryside styled cup inspired by the natural herbs used in cooking. 150ml capacity.
Amazonia – Features an elegant image of an Amazon hummingbird amongst orchids, blossoms and passion flowers. Available as standard espresso cup 80ml or Anmut shape 100ml.
Click Here For Villeroy & Boch Espresso Cups Designs, Prices & Availability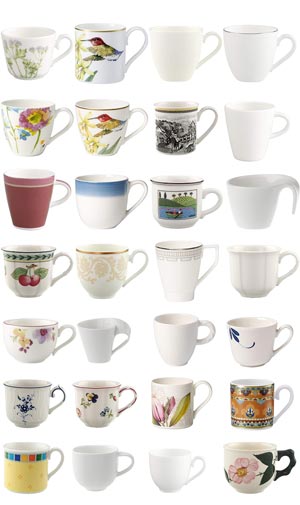 Anmut – The Anmut is a classic Villeroy & Boch shape designed in the 1950s by Karl Leutner the cup is pure white premium porcelain bone. The Anmut Platinum no1 Espresso cup features a platinum ring around the rim. Also available in the Anmut range is the Rosewood with a pink lip and the Samarrah decorated with subtle but smart patterns.
Artesano – The Artesano is a simple, classic design made from premium porcelain. There are several designs available in this range in various designs these include Montagne, Nature Bleu, Provencal Lavender, Provencal Verdure.
Auden Ferme – The Auden Ferme espresso cup's inspired by engraved copper designs from the turn of the last century. A black and white pastoral scene of a farmer with his dog and livestock. The cup has a cream yellow border at the top.
Caffe Club – Caffe Club espresso cups are a simple modern design, made from porcelain with a 100ml capacity. Other Caffe Club designs include Floral Touch, Uni Oak, Uni-Pearl.
Colourful Life – Colourful life cups have a colourful band around the top of the cup, inspired by the four seasons colours available are Green Apple, Winter Sky, Cosy Grey, Berry Fantasy and Natural Cotton.
Design Naif – Designed by Gérard Laplau the cup has a black rim and features a folk art painting of a man and two ladies in a rowing boat on a lake with green hills in the background. It is made from premium Porcelain.
Flow – A pure white premium porcelain cup with a unique curved line handle, ideal for the modern kitchen.
French Garden – A traditional country design of summer fruits painted in warm colours.
Grey Pearl – A 100ml premium porcelain espresso cup with a subtle grey leaf pattern.
Ivoire – Ivoire is a luxury collection from Villeroy & Boch made from fine bone china this cup has a lovely white/cream pattern topped with a gold coat for a luxurious effect. Gold rim and classic style handle.
La Classica – The Nuova cup in the La Classica range has a smart conical shape and modern handle. It is made from premium bone porcelain. The Contura cup has an added silver rim and grey rectangle pattern.
Manoir – Features a minimal lined design and banded handle. Premium porcelain, microwave and dishwasher safe with a 100ml capacity.
Mariefleur – The Mariefleur basic is a curved shaped espresso cup combined with flowers in warm pastel colours and a red rim. The Mariefleur Gris Basic is similar but in a blue theme giving a more relaxed impression.
Montana – The Montana Espresso cup features a basic but modern blue flower pattern and rim.
Montauk Beachside – A coastal themed mug with blue stripes, a seashell (also in blue) and a rope-textured handle.
New Wave – The New Wave Espresso Cup is a best seller and possibly even Villeroy & Boch's most popular design with a unique asymmetrical shape that you won't find on any other cup on the market. The New Wave won the "Trend Dish of the year" award. The cup has an 80ml capacity and's constructed from white porcelain.
Old Luxembourg – Part of the Old Luxembourg collection this espresso cup features a classic shape and navy blue floral design.
Old Luxembourg Brindelle – A modern version of the 'Old Luxembourg" cup creates a fusion of the tradition, and today the porcelain cup has a glossy finish and a significant motif.
Petite Fleur – A Villeroy & Boch's signature patterns a floral design featuring horned violets, daisies, rose hips and forget-me-nots. The cup has a red band on rim and handle made from premium porcelain.
Quinsai – The Quinsai Garden Espresso Cup has a light grey patterned background ait flowers and leaves in the foreground.
Samarkand – The standard Samarkand cup has a light sand coloured pattern made up of leaves dots, and sand other cups in the Samarkand range include Aquamarine, Mandarin and Rubin.
Twist Alea Limone – A colourful mug made up of primarily yellow with a square patterned top made up of blues, greens, yellows and oranges. This cup will brighten any kitchen and put you in a good mood.
Urban Nature – Modern, minimal and straightforward made from premium porcelain the Urban Nature Cup has an 80ml capacity
White Pearl – A brilliant white espresso cup with a wide top and classic handle. 100ml capacity.
Wildrose – An old-school country inspired cup featuring wild pink roses on a cream background and green handle. It is made from premium porcelain, microwave and dishwasher safe.
Click Here For Villeroy & Boch Espresso Cups Designs, Prices & Availability